What I'm going to walk you through requires no extra programs installed, although there are a couple I will reccomend at the end and give you links for.
I have Windows/XP and use Outlook Express for Email.
Step 1
Open your email and delete any new junk.
You may have the option checked to save a copy of sent email to your Sent Items folder, if you do, that can get to be a full folder without you realizing it.
Click on your Sent Items folder and see! If you want to empty that folder, click on one of the messages there, hold the CTRL key and then the letter A key, that should highlight all of them. Right click in the highlighted space and choose Delete from the window, and then click Yes in the warning window.
Now, click on your Deleted Items folder, go up to the top of the screen and click on Edit and choose Empty Deleted Items Folder, then click on Yes when the warning window pops up.
Close Email.
Close any other open programs.
On the bottom left of your screen, click on Start and choose Search.
Click on All files and folders.
In the All or part of the file name box type *.dbx and click on Search.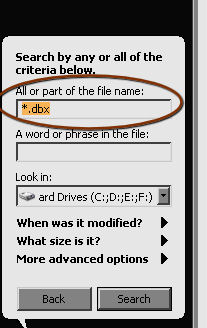 This may take a couple minutes for it to search :-)
When the search is complete, you will see all your email folders.
In the example below, you will see my Deleted Items folder is nearly 76 MB!! And I had emptied that folder.....

Highlight the Deleted Items.dbx line, right click on it and choose Delete, choose Yes when the warning window pops up.
If you emptied your Sent Items folder, you can right click on it and delete it here too.
Don't worry, those empty folders will be recreated the next time you open email :-)
Close the search window out, we are done with it.
Next, empty your Recycle bin on your Desktop.
Go to Start-Accessories-System Tools-Disk Cleanup.
C drive should be in the next window and click OK.
Once you click OK, it will take a few minutes, maybe 2-10 minutes.
In the next window, you will see how large the files are that will be cleaned.
We could have waited to check the Recycle Bin here, but that would have made the window even longer to come up :-)
You can see my Temporary Internet files are nearly 93 MB.......and it's only been a couple months since I last did this!!
I have checked to clean Temporary Internet Files, Temporary files and one more you can't see in this example, Compress old files.
Click OK, and then Yes in the warning window.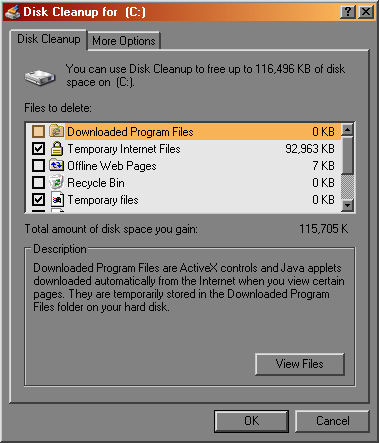 When it's done the little window will go away.
We're almost done, but, not quite :-)
Next, you need to turn your computer off.
Of course, by doing that, you're going to close this tutorial too......
You could print this all out to finish, or you could Add the link to this in your Favorites folder.
In either case, I go through this process about every other month, for me it would be easier to keep the link in my fav's folder, but that's totally up to you :-)
When you have saved it how you wish, turn your computer off.....not restart, turn it off.
You get much better "closure" to the things we have just done.
Give it a minute or 2, and then turn it back on.
When it is completely back up, go to Start-Accessories-System Tools-Disk Defragmenter.
Highlight C drive and click on Defragment.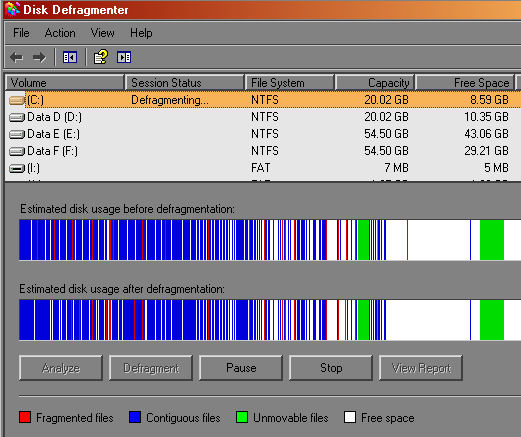 I have 1 physical hard-drive, partitioned into 4 drives.
I start with C and defrag each.
If you just have C, that's perfectly fine, it will just take longer.
This does take a bit of time to process, but, it's kinda fun to watch :-)
When it is done, a window will pop up, close it and go to the next drive, or close the Disk Defragmenter and You're Done!!
Your system is now clean and happy :-)
If you have never cleaned your computer, these steps may have taken extra time, but you should also notice your computer running better.
I really do try and clean mine every couple of months, those files get large faster than you think.

Now, I promised a couple links to programs I also use.
Ad-Aware is a nice program to scan for Mal-ware and Spy-ware some sites love to drop on you. The free version you can get Here. Although there is also a pay version I have not tried there too :-)
Spy-Bot is another good one to have to scan for Mal-ware and Spy-ware. It is free, but there is a Donation link if you like it :-) Link Here.
Depending on the Anti-Virus program you use, it may already block these types of threat, but, it never hurts to take an extra precaution!!